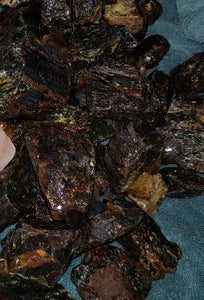 Black Amber
This powerful energy, with its deep, dark hue and ancient energy, beckons you to explore the mysteries of the earth. Black Amber is known for its grounding properties and ability to cleanse and protect your energy and surroundings. Embrace its rich history and bring its wisdom into your life.
Black Amber has been hailed for centuries as a guardian of energy and spirit. Black Amber creates a shield around you, warding off negative influences and providing a sense of security. Embrace its powerful grounding and purifying attributes, making it a trusted companion for those seeking to safeguard their inner balance. 
Grab some Black Amber to help increase your spiritual protection, wisdom and connection.