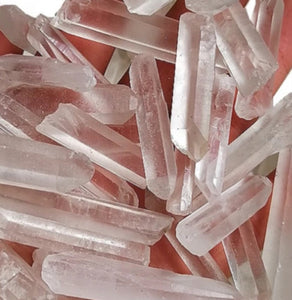 Clear Quartz mini wands
Clear Quartz is like the superstar of crystals and stones.
Used with energy healing, chakra cleansing, and just about any spiritual need, clear quartz acts as a magnifying agent for any other crystals and stones it is connected to and working with. 
Great for users who want to bring more 'light' into their space or spiritual work, as it said to be a great reflector of the heavens light. Good for helping to magnify spiritual gifts, intentions, work and rituals. 
Helpful for those who use light and reflective energy as a protective barrier or aid. Powerful in helping the user reset their own energy and balance, and create peaceful space. 
Also noted to be used as a pain reliever, and helping to heal dis-ease and other health concerns in the physical body. 
This particular size is 1/2 to 1 inch thickness and may range from 1 inch to 2 inches in length. Great for use as a pendulum, in crystal grids, as mini wands, with candle rituals, wire wrapping, wire weaving and more! These are a thinner more cylindrical shape versus the wider/thicker crystal points. 

We know it can be daunting when you are just starting out with crystals and stones so message us with questions when you need help getting pointed in the right direction or figuring out which pieces you want to add to your collection.