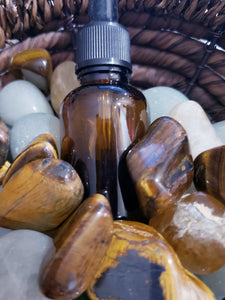 Healing Energy Money Oil Blend, 1oz
Hi there beautiful one!
So a lot of people have heard me talk about my personal money oil blend or asked me what I do to help create money in my business and I share with them that I use daily, my own personal, custom money oil blend.
It comes in a 1oz brown glass bottle (to protect the essential oils used & keep it fresher longer), with a dropper.
The oil features a blend of natural herbs such as Basil & Thyme, Essential Oils including Lavender, Frankincense, Lemongrass, & crystal chips including rose quartz, citrine, peridot and a few others.
Each oil is blended with love and infused with my own energy healing. Enjoy and use daily as a part of your own healing journey, meditations, working with your crystals and the many other ways you may be inspired to include it in your day.
I love to dab some on in the mornings, before I do my daily tapping and crystal routines to help me get my day started! Clients have reported using it on their chakra points, in candle dressings, pouring some in their bath water, shower gel, etc.
My oil blends do not take the place of replace your drs advice or suggestions. Please be sure you have read and understand our terms and conditions.
Also ask us about the custom, Pain Relief Blend, Love & Romance Blend and the Sock It To Me/ Love Self Blends!
●●PLEASE NOTE.... With our custom made items (steams, oils, waistbeads, etc...) all items are created as ordered so there will be a longer processing and shipping time, typically 7-14 days to create and ship. Shipping may delayed if close to a holiday or other circumstances out of our hands such as the pandemic causing slow downs in UPS, USPS pickups and shipping times). If you package will be delayed longer than this we will contact you ro let you know. You will recieve an email with tracking information once your order has shipped.●●