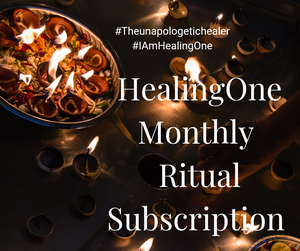 HealingOne Monthly Ritual Subscription
Join in and rev up your own personal energy, by participating in our monthly rituals. 
Each month the subscription will include at least 2 rituals. There may be other rituals posted and you may purchase access to those if desired. 
SEPTEMBER 2023
▪︎9/14 - Restored & Rejuvenated (Allow yourself to be refilled and nurtured by spirit) Crystals you can grab... rhodonite, strawberry quartz, clear quartz, selenite, fluorite, tiger eye
▪︎9/29 - Phoenix Energy (Rise up and conquer the current challenges) Crystals you can grab... jade, clear quartz, fire quartz, labradorite, tiger eye
The monthly ritual will be posted here in the description and in our The Unapologetic Healer fb group. Sometimes live a snippet will be shared in the fb group to help you better connect (this will not always be done).
 2 OPTIONS TO PURCHASE...
1. You may choose to purchase once
2. You may choose the monthly renewal and be charged each month (canceling whenever you're ready. Monthly current subscription cost is $100
3. You can choose the quarterly option and save 15% and recieve 3 months for $255 ($85 monthly). 

There will not be anything shipped unless you have chosen to purchase an order of waistbeads or have added Crystals to your order to have them charged during the rituals.