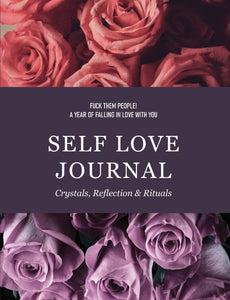 Self Love Journal
If you select the option to purchase the book with crystals or with crystals and session, you'll receive one of each of the below listed crystals. These are the crystals used in the journal and are a great start to a collection if you are a newbie and are just as powerful if you're more advanced.🥰🥰
1.Strawberry Quartz
2. Mookaite
3. Unakite
4. Amethyst
5. Carnelian
6. Smokey Quartz 
7. Rose Quartz
8. Emerald
9. Red Jasper
10. Rhodonite
11. Fire Quartz
12. Amazonite
13. Turquoise
**PLEASE NOTE, we may substitute a crystal if it's not in stock and we can't get it in a reasonable time, to prevent delaying your order**
If you select the option to purchase the package with the book, crystals and session with Jasmine, you'll receive a separate email with the link to schedule your 30 minute session. You can use this session to help you get started with your journal/ritual process or as an intuitive guidance session. 
☆☆☆☆☆☆☆☆☆☆☆☆☆☆☆☆☆☆☆☆
Thank you for your support and spread the word. We can ALL use more self love in our lives🥰
This journal was a labor of love and poured from my heart, as I thought about each person that will touch it and use it. I offered crystals that have brought tremendous joy and change for me. Herbs that have supported my healing. And insights that I hope you will use, to support you in creating a magickal journey for yourself. Self love is often attacked by those who are struggling themselves. Dont let anyone else ever tell you that you don't come first. Fuck them people! ~~ HealingOne
 ☆☆☆☆☆☆☆☆☆☆☆☆☆☆☆☆☆☆☆☆
I created this particular journal to be as simple as possible and easy to use for beginners and more advanced users alike. Whether it's your first time using a journal or you're an old pro, I think you'll enjoy it. Simple daily prompts, and intentional focus on getting the most important things done, while simultaneously creating a routine to merge in with your spiritual journey. 
366 days (including leap year😎) of you focusing on you. I've included crystals and herbs that supported my healing journey and a base ritual that you can include in your prayer time, meditations, and spiritual/religious practices. Make this experience your own, you are powerful and have the perfect inner wisdom to create a beautiful and life changing experience. 
Each day (no date, so that you can start when you get it) Has space to write in the most important things you want and need to focus on. Because that's where slef love really kicks in, through self care. We aren't meant to do it all every single day. Prioritize, get those things done, and create more space to live more experiences you actually desire. 
Each 30 days,  has its own crystal and herb recommended. Use them to create a ritual of self care, self love and healing. You can do a basic ritual daily, weekly, bi-weekly or monthly. There's no wrong or right way. Only your way, and that's the perfect way🥰
👇🏾👇🏾👇🏾👇🏾👇🏾👇🏾👇🏾👇🏾👇🏾
Stay tuned because I'm working on a more advanced journal to include more detailed rituals, more crystal and herb recommendations and prompts for deepening your spiritual journey with affirmations, reflection questions and fun 'homework' assignments🤩🤩
☆☆☆☆☆☆☆☆☆☆☆☆☆☆☆☆☆☆☆
It excited me to make my mundane work of writing out some mails and posts turn to a celebration! Helped me to create the mood with Crystals, diffuser and all that I love to add to the ritual and understand how self love and care also means celebrating even the least exciting and everyday mundane work . It's true that my country is facing much challenges right now and everyday seems so vulnerable and Challenging yet this helped me get back or tune into myself despite it and still do what I can at the very best and embrace it all!  ~~ A. Selvaraj
☆☆☆☆☆☆☆☆☆☆☆☆☆☆☆☆☆☆☆
"Sit to yourself for about 30 minutes a day while working through this. The silence forces you to focus and reflect on the process and not just rushing through the pages. A must have for anyone on a self healing journey." ~~ T Locke