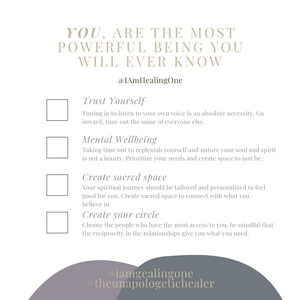 The Unapologetic Healer Mini Mastermind
Hey there lovebug and fellow badass! This is the sacred/safe space you have been searching for!
We are making major pivots behind the scenes here at HealingOne and this is one of them. A container specifically for YOU!

Then intention and purpose, to help you shift from surviving to thriving! To support you in relieving the emotional fatigue and feeling rejuvenated, revived and renewed!
~~~~~~~~~~~~~~~~~~~~~~
Because you are the one who takes care of everyone else. You are the one who shows up, nurtures, protects, makes a way, saves the day and is consistent for everyone you love and care for. You will even go to war for strangers to stand for what is right!
PAUSE!!
This is where you PIVOT!
~~~~~~~~~~~~~~~~~~~~~~

Because none of that is wrong, however what is out of order is when you are last on the list and your needs aren't met. STOP THAT!
And that is exactly what we are coming together to do. We are creating a space for you to join in with others, who are ready to heal and grow forward in honoring, accepting and OWNING YOUR POWER!
Because you are powerful. And you are not here just to take care of others.
Maybe they don't get it. Maybe they desperately need you. Maybe it's your parents and you are the caregiver. Might be your spouse and you've been going through a rough patch. Could be your children and you can't find anymore hours in the day. Might be your job or business is taking all of your time, desperately trying to meet all the obligations, figuring out how to increase your to handle everything on your plate. 
It can be and is so many things, but at the end of the day, the biggest wisdom I have learned as a healer, coach, previously a mental health counselor, and more.... SELF FIRST is absolutely necessary to THRIVE!
~~~~~~~~~~~~~~~~~~~~~~
We often erroneously give from the very well, that we need to draw from to successfully thrive. You can't give out of deficit and successfully thrive. You are in fight or flight. You are in fatigue and exhaustion. You are in survival mode. 
To thrive, you've got to fill yourself back up. And then proceed forward in giving from your overflow, because you are constantly pouring into yourself.
Think of a sink faucet. You turn the water on and you can pour into every jar and container you want to. But if you turn the faucet off, there's nothing to pour and you're pulling from the containers you have, and they are going to run out and be dry.
You are emotionally fatigued, drained and dry. Trying so hard to help everyone and drag yourself along. Seeing your worth in how you show up for others. Seeing your value in how you can save the day. Being superwoman, superman, super hero.
~~~~~~~~~~~~~~~~~~~~~~
All of that is abut to change. No, we can't and we wont promise you that everything is going to be rainbows and sunshine. However, we can say that joining us for this mastermind experience is going to be life changing.
WHY?
Because when you get into a space with life changing people, it creates a powerful energetic vortex that you can use to supercharge your healing and growth. Add into that strategic coaching and you've got a recipe for triumph!
That's part of what we are going to help you cultivate in this experience. And trust us, it is going to be an EXPERIENCE.
YOU have to do the work.
WE are going to give you the framework and space to do it!
~~~~~~~~~~~~~~~~~~~~~~
Our intentions are for you to leave this container with deeper knowledge of yourself, strategic aligned action steps to continue your momentum, friendships to grow forward in, clarity, insight and wisdom to propel your powerfully forward in being the baddest, most powerful version of yourself.

We will come together as a group, to define what healing means for each of you. And use this understanding to help each of you to intentionally and purposefully move forward to create a daily experience of life that makes you feel good from the inside out.
We are going to support you in...
>Trusting Yourself
>Honoring and taking care of your well-being
>Creating sacred space for yourself
>Creating a supportive and healthy circle for yourself
>>How can this show up in your life?<<
~~Changes in your relationship or marriage
~~Changes in your business processes and or job
~~Mindset shifts concerning money and wealth
~~Self-care will be re-prioritized
~~Self-love increased and renewed
~~Clarity for what you need and desire to thrive
~~Guilt, shame and fear of rejection can be released
~~Generational pain and wounds can be healed and released
And so much more!!! The potential and possibilities are absolutely infinite and endless!
~~~~~~~~~~~~~~~~~~~~~~
And if this spoke to your heart, stirred your soul, then this is for you. We are here, waiting and ready, to walk with you hand in hand, to your next level of living.
~~~~~~~~~~~~~~~~~~~~~~

The only thing left to do is choose which option meets your needs...

**The Mastermind by itself...
Allows you to join us for this 6 week group experience and receive access to the recorded weekly meetings in our private library, along with the class downloads.
OR

**Upgrade and receive the Mastermind AND an Intensive with Jasmine...
After the mastermind you will schedule a  3 hour session to help you supercharge your momentum. You can take the information covered in the group to delve deeper, or work on a specific area of concern, issue, experience, etc that you are having. The price of the Intensive has been added at a special rate of $750 (normal full pricing for a 3 hour intensive with Jasmine is ($1500).

👉🏾👉🏾Get registered and we will see you on the other side of your greatness! :)👈🏾👈🏾
We also believe in the power of relationships here at HealingOne. When you're able to do something powerful, with someone close in your life it can add invaluable benefit. So tag a friend, spouse, loved one, bestie, employee, etc, save some money and get registered!
Bring a friend...
Sign up and register with a friend and you can both register and attend for the price of $1200 ($600 each, a savings of $150 each). If you need to pay separately, please email us at info@iamhealingone.org and let us know both your names and we'll help you get registered.
Remember to use Shop payments of Klarna options at checkout to it break your purchase up into multiple payments.