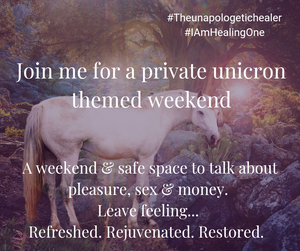 Unicorn Girl, Fantasy Weekend
WHO...you are crying out to be heard. Feeling depleted. Needing to be loved on nurtured and poured into. You are calling for sisterhood and safe space to be yoir whole badass, crazy self. 
WHAT...A girl retreat where we dress like unicorns & fairies (pick ehatever feels good to your soul). We'll talk about
Pleasure... tap back into your body and create a regular ritual and routine in your life focused on self-care, self-love creating pleasure I'm every opportunity (both sexual and good old laughter and joy)
Sex... We hold so much in our bodies and womb space. Let's dance it out, heal the hurt, release any shame, and allow the sensual Goddess in you ro come out. Rev up your ability to enjoy orgasm, sex, foreplay and being comfortable in your oen body go express what you want and need, and take charge of your sexual pleasure.
Money... Many of us have held different mindsets and family, cultural and religious beliefs about money that have kept us from getting where we want to be in life. Join on as we cultivate a healing ritual and energy centered around releasing the struggle and embracing the wealth you have a divine right to enjoy. 
We will leave refreshed, renewed and reinvigorated. 
WHEN... 2 dates are being considere. September 15th - 17th and September 22th - 24th. Final date will be selected based on feedback from the first few who register. 
WHERE... Pigeon Forge, TN (we are looking at the mountain cabins)
EXTRA...
Healing ritual will be created, participate if it resonates for your soul. Focused on releasing old patterns and healing into uour whole, healed, healthy and wealthy self. 
2 Masterclasses... Adding Pleasure into your daily life &  
Bring your fav unicorn, fairy or whatever costume make the lil girl in you laugh! 
1 meal will be provided Friday (Dinner), 2 meals will be provided Saturday (Breakfast & Lunch), 1 meal will be provided Sunday (Breakfast). 
Location will be an airbnb or hotel suite, based on number of registrations (6 people max) (be prepared to share a room, in order to keep the registration costs low).
Wine will be provided. Snacks will be provided.
PLEASE NOTE... once paid, there will be NO refunds as we consider your paid registration as confirmation and used to provide the location and accommodations.